At Caravan Camper Shells, all of our work is custom crafted and made to order. 
THE GENERAL is designed for the mobile working person. Whether you are a general contractor, craftsman, tradesman or weekend hobbyist, this is shell for you.
Includes: One Steel Side Door on each side with Storage Boxes to keep your gear secure. Three standard or low profile Roof Racks to haul the big stuff.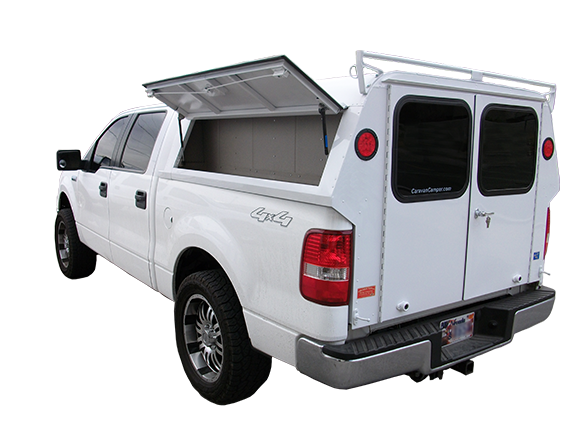 ALL ITEMS SHOWN ABOVE COME STANDARD
Full Sized 5' to 6 3/4' short bed $9025 | 8' long bed $9200

All Small Sized Trucks $8735
Deluxe Double Doors
Designed for durability and ease of access, these doors provide you with a 49 1/2 inch wide opening on full sized trucks and a 43 inch wide opening on small sized trucks. The doors spring out without hitting the trailer jack on the tongue of the attached trailer. They make it much easier to step into as opposed to a tailgate. We're constantly improving the design and our most recent upgrade is gas springs which keeps the doors from blowing around in the wind. These doors lock on the outside, but the inside is always open for safety. The hinges are made of heavy duty galvanized steel.
Tapered Sides
Tapered sides in the shell provide for a sleeker, more sporting appearance and are popular with our customers. Although, it's not just about looks. The aerodynamics of the design provide for better fuel mileage as well.
Automobile-Grade Paint
All of our camper shells receive high quality automotive grad urethane exterior paint, color matched as close as possible to your vehicle's color or any other color of your choosing. We start with a coat of epoxy primer, then add two coats of base paint color. Finally, we add two more layers of urethane clear coat to keep it shining through years of use.
Zolatone Coating
The inside of our shells each receive a Zolatone Coating. This is 100% acrylic, textured paint that is highly scratch resistant and is commonly used on the inside of quality boat hulls. It's corrosion resistant and designed to keep your shell looking sharp for many, many years.
Pressurizing Ventilator
The well-engineered pressurized ventilator allow you to have fresh air inside, while keeping the dirt from the roads out. This is accomplished by a pressurization inside the shell. It also provides for an escape route for moisture without allowing rain to enter.
Safety Glass Windows
These are built with Department of Transportation approved tempered safety glass. In the case of an accident, the windows are designed to shatter rather than breaking into dangerous large jagged pieces.
Tinted Windows
For those mornings when you need to sleep beyond sunrise, these tinted windows will help you get your well-deserved rest. They also will keep headlight glare down in the evenings. Not only do they assist in keeping inside the shell cool, but they will reduce sun damage as well.
Dome Light
Your shell comes with an incandescent dome light built with a sturdy metal fixture to keep it from breaking. If you want more brightness, you can choose the option of having an additional dome light installed.
Two LED Rear Brake Light
Our high quality LED Rear Brake Lights last longer and use less power while providing you with a key safety feature. Each shell comes with two and these 9 diode lights are built to last. We include the installation with your order.
Clothes Hangers
We know you're on the go and will need to provision yourself depending on the weather and the adventure. Your camper shell comes with clothes hangers than can typically hold five large jackets.
Optional:
Gun Racks
Whatever your adventure, whatever the job, we've got you covered. We offer gun racks mounted in the storage boxes as an option which also double well for a place for your tools. This will allow you to handle both your hunting expeditions and your daily work.